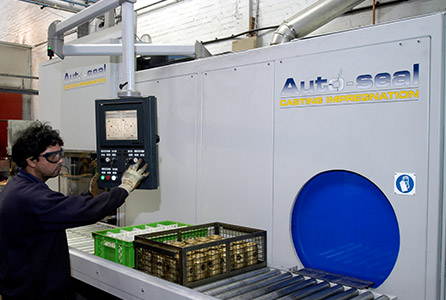 MX Systems 'Auto-Seal' Twin Chamber Impregnation System
About Impregnation Solutions
Impregnation Solutions Ltd was founded by Paul Young in 2016. Paul is the third generation of the Young family that first introduced casting impregnation in the UK in the 1940's and has over 35 years' experience in all aspects of the impregnation process, including research and development, chemical formulations, equipment design and manufacture and hands-on experience in operating impregnation jobshops.
The story of Industrial Impregnations and the origins of casting impregnation in the UK
An extract from the SLOUGH OBSERVER, Friday, February 4, 1966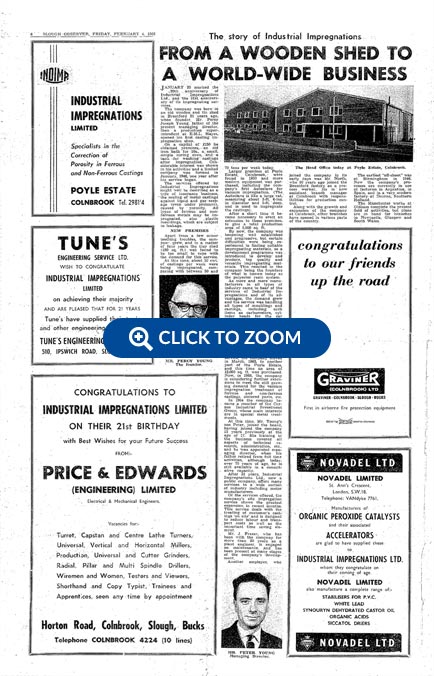 'From a Wooden Shed to a World-Wide Business'
JANUARY 25 (1966) marked the 20th anniversary of Industrial Impregnations Ltd., and the 21st anniversary of its impregnation services.
The company was born in an old wooden and tin shed in Brentford 21 years ago, when founder, Mr. Percy Joseph Young, father of the present managing director, then a production superintendent at E.M.I., Hayes, opened his first casting impregnation shop.
On a capital of £150 he obtained premises, an old iron bath for 10s., a small simple curing oven, and a tank for washing castings after impregnation. Considerable interest was shown in his activities and a limited company was formed in January 1946, one year after his service began.
The services offered by Industrial Impregnations might well be described as a type of insurance business, the sealing of metal castings against liquid and gas seepage (even under pressure), caused by porosity. All types of ferrous and non-ferrous metals may be impregnated, also plastic mouldings, which are subject to leakage.
New Premises
Apart from a few minor teething troubles, the company grew and in a matter of four years the tiny shed (150 sq. ft.) was found to be too small to cope with the demand for this service.
At this time about 30 cwt of castings per week were being impregnated, comparing with between 50 and 70 tons per week today.
Larger premises at Poyle Estate, Colnbrook, were found in 1950 and more modern equipment was purchased, including the company's first Autoclave for vacuum impregnation. (The Autoclave is like a large vat, measuring about 3-ft 6-ins in diameter and 5-ft deep, and is used to impregnate the castings).
After a short time it became necessary to erect an extension to these premises, to give a total production area of 5000 sq. ft.
By now, the company was becoming well established and progressive, but certain difficulties were being experienced in finding suitable impregnating materials, so a development programme was introduced to develop and produce, top quality and versatile impregnating materials. This resulted in the company being the founders of what is known today as the polyester resin system.
As more and more manufacturers in all types of industry came to hear of the services of Industrial Impregnations and of its advantages, the demand grew and the service was handling all types of mouldings and castings, including such items as carburettors, cylinder heads for the car industry, industrial pumps and valves and many more.
One of Industrial Impregnations first clients was Crompton Parkinson Ltd., of Chelmsford.
Another Move
To cope with the ever increasing demand for their service, the company moved in March, 1962, to another part of Poyle Estate, and this time an area of 12,000 sq. ft. was purchased. Now, in 1966, the company is considering further extensions to meet the still growing demand for the vacuum impregnation treatment of ferrous and non-ferrous castings, sintered parts etc.
In 1964 the company became a member of the Curzon Industrial Investment Group, whose main interests are in special metal treatments.
At this time, Mr. Young's son, Peter, joined the board, having joined the company 13 years previously at the age of 17. His training in the business covered all aspects of technical research, administration etc., and he was appointed managing director, when his father retired from full time activities, although today, over 70 years of age, he is still available in a consultative capacity.
Timeline
Three generations spanning 70 years in Casting Impregnation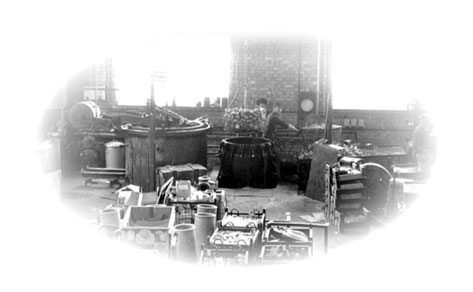 1945

Percy Young started Industrial Impregnations Ltd

1950

World 1st: Industrial Impregnations develop polyester resin system for casting impregnation

1967

Peter Young (Percy's son) started Ultraseal Ltd (Ultraseal International Ltd)

1976

World 1st: Peter develops the 'PC504 Methacrylate Sealant and System', which is patented and supplied worldwide, setting the standard for today's technology

1976-79

Peter's sons, Stephen, Michael & Paul, join Ultraseal

1987-92

World 1st: Peter develops Top Load/Front Load MX Rotational Impregnation equipment, including the Caskade wash system

1989

World 1st: Peter develops MX Recycling Sealant and System

1993

Paul Young started MecWash Systems Ltd

1998

Peter Young and sons started MX Systems Ltd

2002

World 1st: MX Systems develop the 'Auto-Seal' Twin Chamber Impregnation System, the first two-step impregnation process

2014

Midland Impregnations formed by Paul Young & Chris Arrowsmith of Midland Deburr & Finish Ltd.

2016

Paul Young starts Impregnation Solutions Ltd to develop alternative methods of impregnation and launches the Spot-Seal Selective Impregnation Gun and range of Sealants.