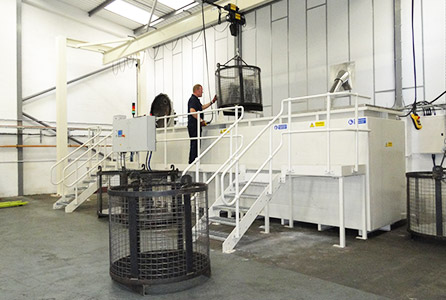 Midland Impregnations Ltd
About Impregnation Solutions
Impregnation Solutions Ltd was founded by Paul Young in 2016. Paul is the third generation of the Young family that first introduced casting impregnation in the UK in the 1940's and has over 35 years' experience in all aspects of the impregnation process, including research and development, chemical formulations, equipment design and manufacture and hands-on experience in operating impregnation jobshops. Paul is also a shareholder of Midland Impregnations Ltd.
Timeline
1945

Percy Young starts Industrial Impregnations Ltd

1950

World 1st: Industrial Impregnations develop polyester resin system for casting impregnation

1967

Peter Young (Percy's son) starts Ultraseal Ltd (Ultraseal International Ltd)

1976

World 1st: Peter develops the 'PC504 Methacrylate Sealant and System', which is patented and supplied worldwide, setting the standard for today's technology

1976-79

Peter's sons, Stephen, Michael & Paul, join Ultraseal

1987-92

World 1st: Peter develops Top Load/Front Load MX Rotational Impregnation equipment, including the Caskade wash system

1989

World 1st: Peter develops MX Recycling Sealant and System

1993

Paul Young starts MecWash Systems Ltd

1998

Peter Young and sons start MX Systems Ltd

2002

World 1st: MX Systems develop the 'Auto-Seal' Twin Chamber Impregnation System, the first two-step impregnation process

2014

Midland Impregnations Ltd formed by Paul Young & Chris Arrowsmith of Midland Deburr & Finish Ltd.

2016

Paul Young starts Impregnation Solutions Ltd to develop alternative methods of impregnation and launches the Spot-Seal Selective Impregnation Gun and range of Sealants.